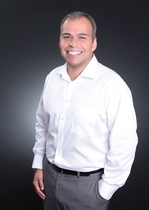 727-527-7373 x122
727-521-3485 fax
727-417-7285 cell phone

raul@hofackerhomes.com
888 62nd Ave N.
Saint Petersburg FL, 33702
Receive Email Alerts from Me
Currently residing in North East St. Petersburg, Raul Montenegro Jr. has been a resident of the Tampa Bay area since 1980, and graduated from the University of South Florida with a Bachelor's degree in Management Information Systems. Raul has over 12 years of real estate experience which has given him extensive knowledge of the luxury markets in Hillsborough and Pinellas Counties. He specializes in waterfront and condo markets in the Tampa Bay area. Keeping current of all transactions throughout the market, Raul is extremely knowledgeable of current development trends in these areas. 
Raul is focused on providing you with the best results and service in the industry. He listens carefully to understand your real estate goals and works hard to create solutions that make sense for you. Whether you are new to the market, selling, or an experienced investor, Raul has the expertise, proven track record, and resources to help you achieve your real estate goals.
Experience and technology is his edge!
Testimonials
Raul did a great job. He was always willing to help and did everything he could to get us into a new home. I would highly recommend him to anyone.
The search went on for quite a while and started out as a search for a house. Later we found that a condo would suit us better. He never got discouraged   and we had done multiple offers on various properties.  Customer in St Petersburg
I had a great experience with Raul in the process of purchasing our first home. He was always quick to respond to any questions and very attentive to all of our needs.  He was very knowledgeable of the area and very helpful in the approval process for the condo association. I would definitely work   with him again in the future and highly recommend him to family or friends.  Customer in St Petersburg
We thoroughly enjoyed working with Raul to buy our home. In our first meeting, he was well prepared and took the time to walk us through the buying process so we knew what to expect and how to prepare. This was very valuable for me, as this was my first home-buying experience.  Customer in Palm Harbor
Raul was very helpful with every question I had for him. I looked at three houses and with each one Raul show and help me with everything. Almost gave me pointer on each one that I didn't know. I'm glad we had Raul to help my family find our home.  Customer in St Petersburg
Raul made selling my current house and buying a new house easy. My worries were eased by him and both homes closed successfully one after another. I highly recommend Raul.  Customer in Clearwater
Raul handled the selling of my house impeccably. From start to finish I was impressed at every step.  When he came in the house, he recommended that I list exactly where I had in mind.  We agreed upon a list date, the sign went up and immediately started getting appointments scheduled – multiple a   day.  All along the way he stayed in constant communication.  An app was provided in which I could approve showings and receive feedback on the viewings.  Within TWO WEEKS he got an offer for the house for asking price minus a couple of points towards closing which was still well within my acceptable range.  The offer closed successfully on time without issue.  I recommend Raul very highly!  Great service, care, and delivers results!  Customer in St Petersburg
Very good Realtor – listens to what you have to say, what you need and then delivers.  No hard selling – but very much interested in getting you what works for you.  Customer in Clearwater
Raul is very professional and honest, which can be a hard thing to find when dealing with real estate brokers. He walked us through the selling process which can be somewhat daunting at times. He made the right moves with pricing and worked out the deal that we could live with! He actually helped   us buy this house a few years ago. We will continue to bring our business to him.  Customer in Tampa Palms
I've worked with Raul twice now while buying and selling a home. He works hard to get the job done in any situation and is always professional. Raul is prompt in answering any question you might have during the process. I would highly recommend you hire Raul as your realtor.